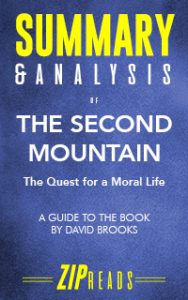 "About Summary & Analysis of The Second Mountain:
In The Second Mountain, political commentator and author David Brooks explains how individuals and societies can transition from selfish individualism to a focus on community. He believes that to achieve solidarity, wholeness and true happiness, we must shift our character from the hyper-individualistic first mountain to the more relational second mountain.
Targeted Age Group: ALL
Written by: ZIP Reads
Buy the ebook:
Buy the Book On Amazon
This site contains affiliate links to products. We may receive a commission for purchases made through these links.