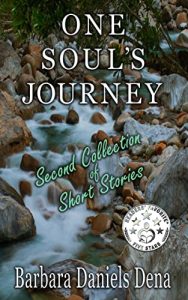 About One Soul's Journey: Second Collection of Short Stories – Book 2 of the Soul Series):
"Awarded A 5-Star Editorial Book Review By Reader's Favorite!"
One Soul's Journey is an eclectic, unique, and extraordinary collection of short stories.
The ingredients in both books are imagination, a dash of real life, inspiration, and lots of love. If you've read and loved her first collection, "For the Soul," this book will delight you.
Targeted Age Group: 18 & up
Written by: Barbara Daniels Dena
Buy the ebook:
Buy the Book On Amazon
This site contains affiliate links to products. We may receive a commission for purchases made through these links.