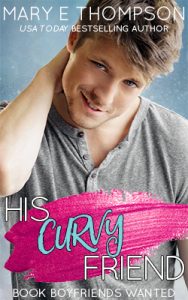 About His Curvy Friend:
Signing up for online dating was a favor to a friend. Blake never thought it would lead her to a man she connected with, someone she trusted with her secrets. Or that he was really her best friend's brother, and the man she was falling for in real life.
Targeted Age Group: 18+
Written by: Mary E Thompson
Buy the ebook:
Buy the Book On Amazon
Buy the Book On Barnes & Noble/Nook
Buy the Book On Smashwords
Buy the Book On Apple Books
Buy the Book On Kobo
This site contains affiliate links to products. We may receive a commission for purchases made through these links.