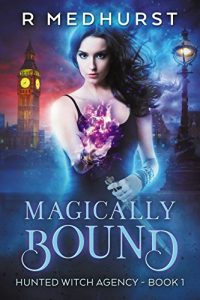 About Magically Bound:
"Witch, Warlock, Whatever…
My name's Devon Jinx, and, yes, I'm half warlock, half witch. But I couldn't care less about which kind of magic is better. All I want to do is keep my head down and get on with my new job as an investigator at the Hunted Witch Agency.
A recent, shall we say, mistake, has put me in place to inherit the leadership of the warlocks. Which means only one thing. I have a choice to make: Leave behind my life of witchery to become a warlock, or lose my warlock magic forever.
Complicating my choice is the fact that someone is trying to destroy the warlock coven. If I don't stop them, the warlocks will be annihilated. The task seems impossible until Gerard Freshwater, a distractingly handsome witch, explodes into my life. He's determined to make me see that being a witch isn't just the best option, but the only option."
Targeted Age Group: Adult
Written by: Rachel Medhurst
Buy the ebook:
Buy the Book On Amazon
Buy the Book On Barnes & Noble/Nook
Buy the Book On Apple Books
Buy the Book On Kobo
This site contains affiliate links to products. We may receive a commission for purchases made through these links.