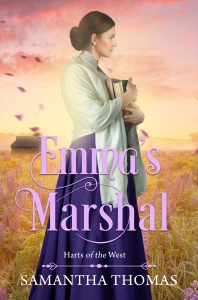 About Emma's Marshal:
When adventuring-seeking Emma Hart discovers there's a Deputy US Marshal undercover at her family's Double H Ranch, she is determined to help him; whether he wants the help or not!
Emma Hart almost has it all. The only thing she is missing in the little town of Autumn Springs are decent marriage prospects, and a bit of adventure, that doesn't come in a book. Problem is, with five older brothers looking out for her, neither of those things are ever going to happen.
Deputy Marshal Weston Hayes is married to the law, and he plans on keeping it that way. When he winds up undercover at the Hart Ranch, he finds both his patience and his heart being tested in the form of the exuberant Miss Emma.
When trouble comes calling Weston needs to make a choice. Will he follow the law, or will he follow his heart?
Targeted Age Group: 13+
Written by: Samantha Thomas
Buy the ebook:
Buy the Book On Amazon
This site contains affiliate links to products. We may receive a commission for purchases made through these links.