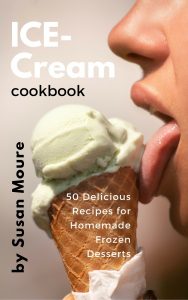 "About Ice Cream Cookbook:
Hot summer ideas for making perfect refreshing homemade frozen desserts! Sweet and creamy Ice Cream, light and healthy Frozen Yogurts, fruity Sorbets, classic Italian Gelato and exotic cocktail Granita – you'll find it here!
Treat your friends with classic dessert or surprise them with unusual and tasty tomato-basil dessert, the choice is yours!
Don't miss a chance to make your summer or holidays unforgettable with a new book of Susan Moure!
Targeted Age Group: G
Written by: Susan Moure
Buy the ebook:
Buy the Book On Amazon
—>
This site contains affiliate links to products. We may receive a commission for purchases made through these links.