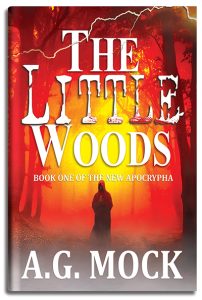 About The Little Woods:
The darkness of the past can never stay buried for long . . . In the summer of 1977, a harmless children's game in the woods plunged a sleepy Pennsylvania town into deadly, unthinkable nightmare. Years later, the horror of that summer no longer haunts Ian Cockerton. But when the appearance of a dead childhood friend triggers nerve-shredding flashbacks and a terrifying omen, Ian is drawn back to the one place he vowed never to return—the Little Woods. There, together with a charismatic spiritualist from New Orleans, he'll face an inconceivable force of darkness hellbent on finishing what it started. But with time running out, can Ian unlock the secrets of that fateful summer to protect the ones he loves? This psychological thriller set in the 1970s & 1990s is perfect for fans of books based on true events, coming-of-age fiction, family thriller books or psychic thrillers!
Targeted Age Group: 18+
Written by: A.G. Mock
Buy the ebook:
Buy the Book On Amazon
Buy the Book On Barnes & Noble/Nook
This site contains affiliate links to products. We may receive a commission for purchases made through these links.