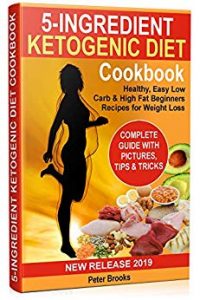 "About 5-Ingredient Ketogenic Diet Cookbook: Healthy, Easy Low Carb & High Fat Beginners Recipes for Weight Loss:
• ★★★Want to eat healthy and tasty KETO dishes?★★★
Want to be in the best shape of your life?
Get energy and taste?
★★★ This book is for you! ★★★
This new edition brings the most affordable, quick and simple ketogenic recipes of 2019 to your kitchen! Discover amazingly simple ketogenic diet recipes keto health high-fat foods and low carb recipes, such as:
• Breakfast
• Dinners
• Soups
• Salads and appetizers
• Meat recipes
• Seafood and fish
• Dessert
• Keto fat bombs
• Foods for ketogenic diet list
Each keto recipe also contains additional information:
• Estimated cooking and cooking time
• Number of servings
• Nutritional value by calories, proteins, carbohydrates, fats.
This cookbook, equipped with simple and easy-to-use recipes and the necessary information, is a user-friendly universal resource for the quick, tasty and accessible achievement of weight loss goals. Inside you will find delicious recipes that are available and delicious, but at the same time quick and easy to prepare – the best of the best of the best worlds!
1.5 ingredients or less: save money and have expensive and tedious ingredients.
2.Cooking time: ideal for beginners for busy professionals and moms.
3.The book combines accessible and tasty ketogenic recipes in one easily accessible resource, with minimal difficulties and time required for their preparation.
So get your book today!
Scroll up and add a book to cart!
Start your journey to a healthier lifestyle with all the tasty recipes you are going to explore.
Targeted Age Group: G
Written by: Peter Brooks
Buy the ebook:
Buy the Book On Amazon
—>
This site contains affiliate links to products. We may receive a commission for purchases made through these links.