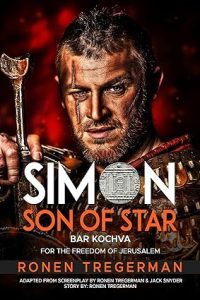 About Simon Son of Star:
When one man raises his sword against the world biggest empire in a quest against all odds to free his people, a battle that will be written on the pages of history rages on. This heroic 2000 year old story follows Son of Star leader of the second rebellion through the fierce battles and the battle of the minds against mighty Rome.
Targeted Age Group: 30-80
Written by: Ronen Tregerman
Buy the ebook:
Buy the Book On Amazon

Buy the Print Book:
Buy the Book On Amazon
Author Bio:
As a storyteller at heart and with a strong sense of adventure the author is on an ongoing quest after long lost legends. This story started with a visit to a museum prompting a chase after a two thousand year old coin in the center of this heroic story. This novel follows true events starting at present times and taking us back two thousand years to the Holy land.
Starting with Simon Son Of Star, in the works are additional books, all in the realm of long lost legends and treasures following true events.
Follow the author on social media:
Learn more about the writer. Visit the Author's Website
This site contains affiliate links to products. We may receive a commission for purchases made through these links.