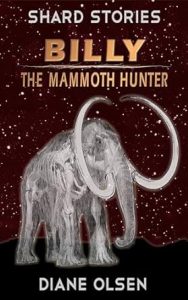 About Billy the Mammoth Hunter (Shard Stories):
Multi-award-winning novelist and writer of the "Rising Wind" novel series asks: "What happened to Billy Riggins? Many are involved in the search; most never met him, but will anyone find him?"
Now, the author introduces you to a unique and exciting shard story titled "Billy the Mammoth Hunter!" Are you a fan of archeology based on realistic science?
Then you will surely enjoy this new in-depth and enriched story with Billy from its predecessor, 'The Thunder Beings" of "Rising Wind." It is an edge-of-your-seat, fast-moving plot of thrilling action, crime, and romance.
( Kindle on Amazon on sale for $2.99 now through Nov. 30th, 2023. )
Targeted Age Group: All Ages
Written by: Diane Olsen
Buy the ebook:
Buy the Book On Amazon

Buy the Print Book:
Buy the Book On Amazon
Author Bio:
Diane Olsen is an award-winning American author and influential writer who began publishing books with her non-fiction book titled; "Ancient Ways: The Roots of Religion," which won a bronze medallion from the Christian Illuminations Book Awards in 2017.
Diane's "Rising Wind" novel series has also won several awards. "The Thunder Beings" was released in 2018. "Ice and Bone," with "The Weeping God and The Book of Hope," released in 2021. "Weeping God" garnished her a second bronze medal win in 2021. Book four was released in March 2022 and titled "Like Feathers of a Wing: Deep, Informative and Pertinent, and book five is now released titled "Rock My Soul in late Nov. 2022.
Four of these books earned five-star ratings from Reader's Favorite, and in 2022 and 2021, she received a second Bronze Medal from Christian Illumination for book three, entitled; "The Weeping God and The Book of Hope." The Rising Wind series is a multicultural mystery fiction read with loads of action and adventure thrill ride like no other! No matter their beliefs or cultural backgrounds, everyone will enjoy this 'Indiana Jones-style series, which rides a balance between science and religion. Diane shares how all of us, all of humanity, are connected as one. Her books are available on Amazon, Kindle, B&N, and many fine online bookstores.
Born and raised in Colorado, Diane is an Undergrad at Colorado State University Ft. Collins: Pre-vet med, Anthropology, then attended and received her BA and MA at the University of Montana, Missoula: Anthropology, Archaeology, and Paleontology. Diane has proudly raised two grown sons, Andrew and Gavin, and has four grandsons, Dylan, Brayden, AJ, and Asher; when she is not writing, Diane enjoys spending time with her family, especially her grandkids. A few of her favorite books are 'The Book of Certitude (Kitab-i-Iqan), The Upanishads, and The Great Initiates.' She is currently working on the next book to her 'Rising Wind' series and resides in the beautiful Pacific Northwest of Washington State.
Follow the author on social media:
Learn more about the writer. Visit the Author's Website
Facebook Fan Page
Twitter
This site contains affiliate links to products. We may receive a commission for purchases made through these links.