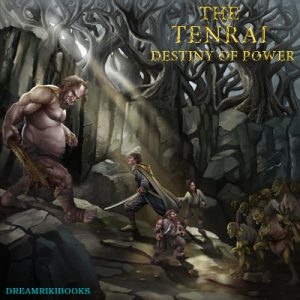 About THE TENRAI: DESTINY OF POWER:
A galactic apocalypse has come to pass, wrenching a world from an A.I age and casting it back into the medieval. By the hands of the gods, folk once pure become tainted, evolving into demigods; beings thought only to dwell in the underworld begin to walk the mortal realm.
Book one tells the story of Niyarla, daughter of a courtesan. Raised in a coastal brothel away from the nearby town of Unguis and the strict conditions the emperor imposes on the land, she spends her days on the roof of the comfort-house basking in the sun and along the sea-shore, kicking the waves as they spill in over the sand, avoiding the smoke-filled corridors and drunken customers of her home. But this changes when her mother's dependency on the drug Hul-gil becomes a problem for them both; she is forced to mature rapidly beyond her ten years as she witnesses her mother's addiction destroy her from the inside. Though there are greater matters afoot, as an oracle foretold that Niyarla would be sought and she must hide from the eyes that watch for the master of the dark. This invisible threat her mother Shairen has long known, but the spell of Hul-gil has dulled her wits. If Shairen does not heed the warning of the oracle will this lead to disaster? Both mother and daughter are cast out onto the streets, and Shairen considers turning to a dealer of narcotics for help. Qan officers patrol the town, enforcing the laws of the emperor. The streets are no place to dwell as vagabonds and orphans can swiftly enter a term of serfdom, never to exit. Shairen must choose a course and quickly. An incident turns Shairen into a fugitive; on the run, herself and Niyarla are thrust into the Jade Vale forest where ogres, orcs and beasts dwell. In this forest even soldiers fear to tread. They must survive this course as the prophet has foretold many lives will be lost if Niyarla does not fulfill her destiny. Help they must acquire, but in what form? How will they make it out of the forest alive?
Targeted Age Group: 18
Written by: CHRISTOPHER DONOGHUE
Buy the ebook:
Buy the Book On Amazon
—>
This site contains affiliate links to products. We may receive a commission for purchases made through these links.