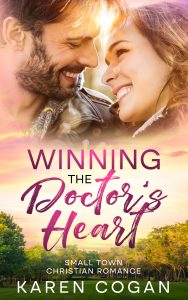 About Winning the Doctor's Heart:
She's tired of rejection. He's a psychologist who heals broken hearts. Can an unusual arrangement kindle an unforeseen romance?
Looking for lasting love, Andrea wonders if she'll ever meet the right person. After a series of failed relationships, her confidence wavers until she meets a charming man with captivating eyes and a warm smile. Can she trust the help he offers?
Kent's profession gives him a unique ability to recognize hurting souls. When he spots a beautiful young woman sitting alone in a diner, her tears compel him discover what's wrong.
As fate weaves their stories together, Andrea suggests a daring plan – what if they pretend to be in a fake relationship? Kent cautiously agrees to her suggestion to help her improve her social skills. But this arrangement sets off a whirlwind of unexpected emotions, pushing them both to confront their deepest doubts and insecurities.
Can their unconventional pact bridge the gap between their longings and fears, or will it unleash a force they never expected? Prepare to be captivated by the enchanting story of Winning the Doctor's Heart.
Targeted Age Group: middle aged women
Written by: Karen Cogan
Buy the ebook:
Buy the Book On Amazon

Buy the Print Book:
Buy the Book On Amazon
Author Bio:
Karen and her family reside in the sun drenched southwest where she enjoys the scenery of beautiful rock formations and cloudless blue skies. Here, she crafts stories of historical
and contemporary romance that explore the enduring power of love, even in adversity.
When she is not writing, Karen enjoys the playful antics of funny dogs and a curious cat, who provides endless laughter and companionship. Yet, it is her particularly stubborn horse that truly adds a touch of adventure to her days.
Follow the author on social media:
Learn more about the writer. Visit the Author's Website
Facebook Fan Page
Twitter
Instagram
Pinterest
LinkedIn
YouTube
This site contains affiliate links to products. We may receive a commission for purchases made through these links.