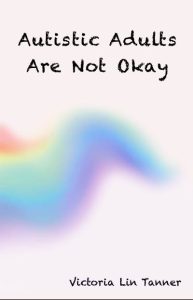 About Autistic Adults Are Not Okay:
This book is a scream from a person who can't take any more. It began as a self-indulgent cry into cyberspace, and evolved into a personal volume that also attempts to educate and deconstruct the often-oversimplified media image of autism. The contents are raw and unfiltered, written at my absolute lowest point at which I, like thousands of other autistic adults, felt that there was no way out. Autistic adults are struggling, and nobody seems to be listening. Almost all of the resources out there are for autistic children – but autism is a lifelong disability. What does this mean on an individual level? We struggle. Severely. I am just one autistic adult whose struggles have become too burdensome to manage. There are over five million autistic adults in the U.S. alone, and even more living undiagnosed. Many of us who came to the diagnosis late in life are grieving the lives we could've had if we'd known sooner, and if we'd had help for our challenges.
The complete lack of meaningful support is causing miserable, angry, and broken autistic adults. This book exposes the ways that our society blocks autistic peoples' access to basic life fulfillment. Organizations like Autism Speaks do nothing to concretely improve the quality of life for autistic people. More than anything, they spread misinformation and stigma. At this book's conclusion, I offer a solution that would tangibly help autistic people more than any ABA therapy, gluten-free diet, essential oil or vocational rehab program. From one utterly exhausted autistic person comes the question, and the answer to 'WHY IS THERE NO HELP FOR US?'
Targeted Age Group: 18+
Written by: Victoria Lin Tanner
Buy the ebook:
Buy the Book On Amazon
—>
This site contains affiliate links to products. We may receive a commission for purchases made through these links.