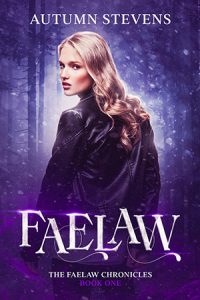 About Faelaw: A Modern New Adult Fantasy:
A personal tragedy thrust her into a mystical realm. Will this bewildered mortal find her purpose by saving its people from destruction?
Gwen Findlay is emotionally spent. After losing her last living family member on her birthday, the heartbroken young woman breaks down in her beloved aunt's home. But in the midst of her tidal wave of grief, she's transported to a magical world—and into the bloodthirsty jaws of a sea bear.
Narrowly escaping, she's stunned when she teleports back to Toronto where a strange man awaits her return. Told she's a prophesied hero chosen to thwart a treacherous Fey-King, Gwen fears battling ruthless enemies in a mysterious land could claim her last breath.
As her destiny unfolds, will she survive the cruel trials ahead?
Faelaw is the wholesome first book in the Faelaw Chronicles epic fantasy series. If you like resilient heroines, crackling chemistry, and action-packed quests, then you'll love Autumn Stevens's modern twist on a classic tale.
Buy Faelaw to embrace an unexpected fate today!
Targeted Age Group: new adult
Written by: Autumn Stevens
Buy the ebook:
Buy the Book On Amazon
Link to Series
—>
This site contains affiliate links to products. We may receive a commission for purchases made through these links.