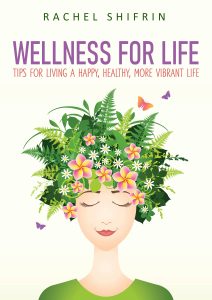 About Wellness For Life:
This illuminating guide reveals the secrets for living a happy, healthy, vibrant life. Learn to reprogram your mind to be happy. Find your life's purpose. Nurture healthy relationships. Learn to set healthy boundaries, learn to develop emotional independence. Cultivate self-compassion and eliminate negative self-assessments. Learn to live life more authentically. Take back control of your time, success, and future! Live the life of your dreams in easy steps. It's easier than you think!
Targeted Age Group: 18+
Written by: Sophie Schiller
Buy the ebook:
Buy the Book On Amazon

Buy the Print Book:
Buy the Book On Amazon
Author Bio:
RACHEL SHIFRIN is a wellness advocate, cookbook author, and all around food enthusiast. She is a passionate advocate for leading a balanced lifestyle of body, mind, and spirit. Her recipes reflect her international flair and love of healthy, kosher cuisine. Her mission in life is to help people understand and achieve whole body wellness with an integrated approach that includes mind, body, and spirit.
Follow the author on social media:
Learn more about the writer. Visit the Author's Website
This site contains affiliate links to products. We may receive a commission for purchases made through these links.