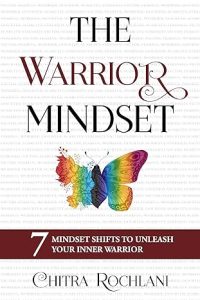 About The Warrior Mindset:
This is wonderful, but we have been conditioned to think that success means money, fame, or power. Unfortunately, this conditioning keeps us focused on competition and judgment, and living in a constant state of doubt, worry, fear, and insecurity. We blame others for our problems and create stress in our lives.
But it does not have to be like that. What if we could live in a more blessed, and abundant mindset, and handle any situation that life throws at us with positivity and grace?
What if we go deeper and understand that it is our MINDSET that determines our thoughts, words, actions and eventually the results we see?
Targeted Age Group: 22-60
Written by: Chitra Rochlani
Buy the ebook:
Buy the Book On Amazon

Author Bio:
Chitra Rochlani is an NASM-certified CPT (Certified Personal Trainer), CES (Correction Exercise Specialist), BCS (Behavior Change Specialist), and a Precision Nutrition Coach. She believes that lasting change begins with a mindset shift. She has worked with numerous clients to help them overcome mindset pitfalls that prevent them from reaching their health goals using her Fit-Warrior Method. With her coaching, she aims to harness the 'inner warrior' in her clients.
Chitra is also a medium and an intuitive healer. Her goal is to demystify and debunk myths about the connection we have to the other side and make it simple and practical for us to take advantage of our intuitive abilities.
This site contains affiliate links to products. We may receive a commission for purchases made through these links.