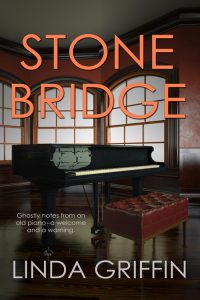 About Stonebridge:
After the death of her mother, Rynna Dalton comes to live with her imperious great-grandmother and her bookish, disabled cousin Ted at Stonebridge Manor. Almost immediately she is aware of a mysterious presence, which she believes is the spirit of her mother's murdered cousin, Rosalind. Rynna is charmed by Rosalind's lawyer son Jason Wyatt, who courts her, and she agrees to marry him. Meanwhile, Ted and Rynna become good friends.
But Stonebridge holds secrets that will profoundly affect her future. Why is Ted so opposed to the match? Why does Rosalind seem to warn Rynna against it? And how far will Jason go to possess Stonebridge—and the woman he professes to love?
Targeted Age Group: Adult
Written by: Linda Griffin
Buy the ebook:
Buy the Book On Amazon
Buy the Book On Barnes & Noble/Nook
Buy the Book On Apple Books

Buy the Print Book:
Buy the Book On Barnes & Noble/Nook
Author Bio:
I was born and raised in San Diego, California and earned a BA in English from San Diego State University and an MLS from UCLA. I began my career as a reference and collection development librarian in the Art and Music Section of the San Diego Public Library and then transferred to the Literature and Languages Section, where I had the pleasure of managing the Central Library's Fiction collection. Although I also enjoy reading biography, memoir, and history, fiction remains my first love. In addition to the three R's—reading, writing, and research—I enjoy Scrabble, movies, and travel.
My earliest ambition was to be a "book maker" and I wrote my first story, "Judy and the Fairies," with a plot device stolen from a comic book, at the age of six. I broke into print in college with a story in the San Diego State University literary journal, The Phoenix, but most of my magazine publications came after I left the library to spend more time on my writing.
Follow the author on social media:
Learn more about the writer. Visit the Author's Website
Facebook Fan Page
Twitter
Instagram
YouTube
This site contains affiliate links to products. We may receive a commission for purchases made through these links.