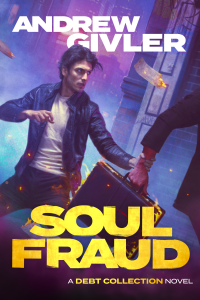 About Soul Fraud:
If you love urban fantasy, coming of age stories, and sarcastic narrators that don't know when to shut their mouth, you'll love Soul Fraud.
A demon stole Matthew Carver's soul. They're not supposed to do that.
Matt has a terrible life. Seriously—it's awful. It is so bad that Dan the Demon is shocked when Matt turns down his infernal offer: 10 years of a blissful life in exchange for his soul.
But Dan is a salesman behind on his quota and his demonic managers are running out of patience. He forges Matt's signature on the dotted line, stealing his soul and thrusting him into a supernatural world he never knew existed. Matt must learn to navigate the hidden society of demons, faeries, demigods, and worse.
Matt has to get his soul back and stop a supernatural war before it is too late….
Targeted Age Group: 13+
Written by: Andrew Givler
Buy the ebook:
Buy the Book On Amazon
Buy the Audio Book:
Buy the Book On Amazon
Buy the Book On Audible
Buy the Print Book:
Buy the Book On Amazon
Author Bio:
Andrew is the author of "Soul Fraud" and also a gaming YouTuber known as Sigils. He loves making people laugh, video games, and food. (Not always in that order.) He lives in LA.
To learn more about him you can go to his website: andrewgivler.com
Follow the author on social media:
Learn more about the writer. Visit the Author's Website
Facebook Fan Page
Twitter
Instagram
YouTube
This site contains affiliate links to products. We may receive a commission for purchases made through these links.