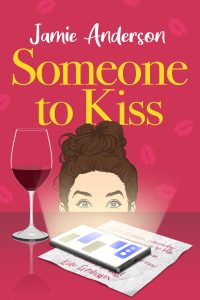 About Someone to Kiss:
As the clock strikes midnight over a disastrous New Year's Eve and happy couples celebrate all around her, Kate makes a resolution, hastily scrawled on the back of a napkin, that next New Year's Eve she will have found someone of her own to kiss.
But when you're a forty-something cat-mom who'd rather binge Netflix than brave the singles scene, finding someone to kiss turns out to be harder than it sounds. Kate is totally unprepared for navigating hook-up apps, speed-dating, and sliding into somebody's DMs.
With the end of the year rapidly approaching, Kate seems further than ever from reaching her goal. As relationships crumble around her and dark long-kept secrets spill out, could Kate's fixation on her quest cause her to let true love slip through her fingers forever?
'A new year's resolution kicks off a dating journey with unexpected and heartwarming results' – Publishers Weekly
Targeted Age Group: Adults
Written by: Jamie Anderson
Buy the ebook:
Buy the Book On Amazon

Buy the Print Book:
Buy the Book On Amazon
Author Bio:
Jamie Anderson is based in Regina, Saskatchewan, Canada. A proud Canadian and Saskatchewanian, she wanted to set her first two novels in the place she was born and raised.
She works in content marketing, has a certificate in professional writing and has done a smattering of freelance writing, character development and copyediting over the past several years.
She's been writing for as long as she can remember, and has been reading for longer than that. She lives happily with her mountain of books, her TV and her two plants.
Follow the author on social media:
Learn more about the writer. Visit the Author's Website
Facebook Fan Page
Twitter
Instagram
This site contains affiliate links to products. We may receive a commission for purchases made through these links.