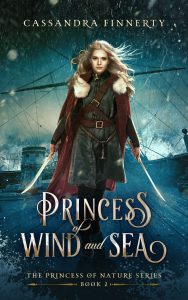 About Princess of Wind and Sea:
The prince and princess race across the globe, evading dark forces and royal intrigue.
But evil knows no boundaries.
From exotic kingdoms to the wilds of Ireland, the prince must protect her at all costs as they fight for survival and abiding love.
Fans of historical fiction, action-adventure, romance and fairy tales will enjoy this story.
Targeted Age Group: Adult
Written by: Cassandra Finnerty
Buy the ebook:
Buy the Book On Amazon
Buy the Print Book:
Buy the Book On Amazon
Author Bio:
Cassandra is the author of action-adventure, fantasy and romance.
She loves to create bold, untamed and endearing characters who struggle to overcome their flaws.
Her fondness for western Ireland – with its rugged shores, hidden caves and wind- swept cliffs — inspired many settings in the Princess of Nature Series.
Cassandra enjoys writing about mystical powers, lush landscapes and stormy seas.
Follow the author on social media:
Learn more about the writer. Visit the Author's Website
Facebook Fan Page
Twitter
Instagram
YouTube
This site contains affiliate links to products. We may receive a commission for purchases made through these links.