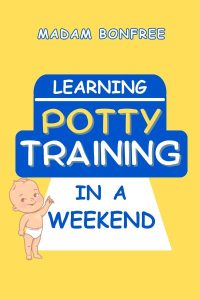 About Learning Potty Training in a Weekend:
Do you want to ditch the diapers but are tired of one-size-fits-all potty training books that don't work?
Fret not! You can learn the basics of potty training in just 3 days! This book offers effective, flexible, and realistic potty training solutions for toddlers ages 1 to 3.
Highlights:
Healthy, stress-free, and proven methods that cater to different situations.
A step-by-step plan for 2 primary approaches: intensive 3-day potty training approach and gradual approach.
Real-life examples with practical solutions.
Understand your child's cues of elimination and readiness like never before.
Learn the differences between daytime and nighttime potty training.
Potty training myths debunked.
Grab your copy today and head toward potty training success!
Targeted Age Group: 13+
Written by: Madam Bonfree
Buy the ebook:
Buy the Book On Amazon

Buy the Print Book:
Buy the Book On Amazon
Author Bio:
Madam Bonfree is an aspiring author and mother of three. She lives in Florida with her loving family and dogs. She loves sharing knowledge and wisdom gained from her real-life experiences to help people get through the little yet troubling issues of life.
This site contains affiliate links to products. We may receive a commission for purchases made through these links.