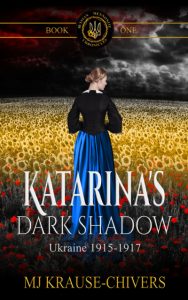 About Katarina's Dark Shadow:
At the brink of the Russian Civil War, the German Mennonites held the economic power in south-eastern Ukraine. At 15, Katarina had grand dreams for her life. But as war approaches, she suddenly finds herself thrust into a world of uncertainty. As rebel gangs threaten the German farmers, the option of emigration is offered.
In 1952, Germany: Katarina's adopted son, Peter, finds her diaries in the post-war rubble in Munich. Knowing little about his parents' past, he peruses her journal. But since the diaries are written in Russian and Gothic German, he solicits the help of a historian and book editor to help him make sense of the story.
Targeted Age Group: 35+
Written by: Miranda Chivers
Buy the ebook:
Buy the Book On Amazon
Buy the Print Book:
Buy the Book On Amazon
Buy the Book On Barnes & Noble/Nook
Author Bio:
MJ Krause-Chivers (aka Miranda J. Chivers) is a Canadian author of German-Ukrainian descent. During the Russian Civil War in the 1920s, her Mennonite grandparents fled Ukraine and emigrated to Canada.
Almost one hundred years later, in 2014, the author visited her family's former homelands in southern Ukraine. This was right after Russia annexed Crimea. Once again, Russia planned to invade Ukraine.
The angst of war was palpable everywhere. Meanwhile, Ukraine's scars revealed the suffering of Stalin's communism. When she saw how her great-grandparents' graves had been desecrated and destroyed, she knew she needed to tell her family's stories. However, since her grandparents had long passed and many personal documents had been lost, she reviewed refugee journals telling about the ethnic cleansing of the German Mennonites from Ukraine. The end result is a shocking historical fiction series set in Ukraine and Germany, "Russian Mennonite Chronicles."
If you're looking for something different from the usual WW2 stories, check out this series.
In addition to fiction, the author is also an award-winning Christian non-fiction author. Be sure to check out her Amazon page and follow her there.
Follow the author on social media:
Learn more about the writer. Visit the Author's Website
Facebook Fan Page
Twitter
Instagram
LinkedIn
YouTube
This site contains affiliate links to products. We may receive a commission for purchases made through these links.