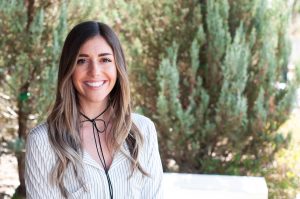 Tell us about yourself.:
Nat Bickel is an energetic storyteller who aims to move people to action with her words. She has a bachelor's in communications, a previous contributorship with Darling Magazine, and published features in Glamour, Stylist, Shondaland, Refinery29, Parade Magazine, and more. Through her journalism experience, she's interviewed celebrities, worked with musical artists, and reported on current trends and events. She's the author of the children's book, The Christmas Clue, that showcases the tale of a Christmas morning scavenger hunt. When she's not writing, you can find her taking film photos of her dog, pressing flowers, or blazing new trails with her husband.
Where did you grow up, and how did this influence your writing?:
I grew up in Southern Indiana. It's an alright place to live, but it can get a bit dull. I moved from my flat hometown to a town with hills and more scenery. I think this is reflected in my writing because I'm always writing about places I've either been outside of Indiana or places I want to go. The setting isn't usually a Midwest town.
Do you have any unusual writing habits?
Writing has always been the way I process things, and therefore I try to take readers on a journey with me, letting them see the world from my mindsight view. I tell people I'm an energetic storyteller because I feel the energy when I write. For example, I can tell when a good story or article is brewing. It starts to pop up in my dreams, and I can visualize it before the words come to me. A half-sleep state is usually how my writing starts. I can't tell you how many people I've accidentally texted with a sentence I didn't want to forget, when I was trying to make a note for myself.
Whenever I sit down to write, I have to drink out of my favorite mug. It gets me in the headspace of "I'm about to let the stories, worlds, characters, and metaphors unleash onto a page."
What authors have influenced you?
I grew up in Southern Indiana. It's an alright place to live, but it can get a bit dull. I moved from my flat hometown to a town with hills and more scenery. I think this is reflected in my writing because I'm always writing about places I've either been outside of Indiana or places I want to go. The setting isn't usually a Midwest town.
Do you have any advice for new authors?
Constantly be writing/creating.
Even if no one reads it, write it because you only have yourself to benefit.
No one has lived your experience or is in your head, so let your unique thoughts out regularly.
Treat your book like you would a baby. It's your creation, and you have to nurture it to make it thrive in this world.

What is the best advice you have ever been given?
"When you're in the middle of a story you're in the middle of possibility" – The Chair on Netflix
This isn't direct advice, but it keeps me going when I feel like a story has fallen flat or I'm not sure what direction to go next. Just being in the middle of a story feels thrilling, and the possibilities are endless because it's your creation.
What are you reading now?
Lately, I've been reading books on raising children, but I recently started a Kristin Hannah book—The Great Alone.
What's your biggest weakness?
My biggest weakness is knit-picking my work. Sometimes it's best to just write and let it flow freely without editing along the way. Some mornings I wake up ready to explode all my thoughts onto the page, and I can't type fast enough. Others, I'm struggling to find the words, and I end up stressing over small things that can be fixed later like word-choice. Giving myself the space and time without distractions to explore the story already within me is when I produce the best writing.
What is your favorite book of all time?
This is extremely hard to answer, but I'll go with Dangerous Lies by Becca Fitzpatrick.
When you're not writing, how do you like to spend your time?
When I'm not writing, you can catch me creating something from nothing through my love of turning vintage items into something fresh and modern, including practicing photography using analog cameras. I also enjoy picking and pressing wildflowers, which then get turned into jewelry or decor. My husband and I love frequenting coffee shops, hiking, getting out in nature, and playing with our dog.
Do you remember the first story you ever read, and the impact it had on you?
I can't remember the first story I ever read, but it was definitely in my early years. My mom would read Is Your Mama a Llama? by Deborah Guarino. It details a llama who lost its mom asking its friends if their mama is a llama. It felt almost like a silly question to me as a child to ask animals of different kinds if their mothers were llamas. Now, as an adult, I think about that book differently. Parents can look completely different from their children, and it's beautiful. It's no longer a silly thought, but a reality with adoptive parents, foster parents, and other atypical families. It's impacted my worldview and my writing to be more inclusive.
What has inspired you and your writing style?
Typically, authors that use highly descriptive language and thought-out metaphors inspire my writing. I want people to feel like they're there inside the story, experiencing it firsthand.
I also find that the more people I meet and the more places I go, the more I have to write about because in those moments, inspiration is floating all around—in the air, in the settings, and in the details of the people.
What are you working on now?
I have a young adult novel I've been working on polishing for a few years now, a new children's book idea that I'm working on fleshing out about inclusivity and diversity, and a short story of mine is going to be published in a Christmas Anthology this year (2022) with TouchPoint Press.
What is your favorite method for promoting your work?
Social media is your best friend. My publisher helps promote through Ebookfairs, but utilizing your personal following is invaluable. Podcasts are another great platform to connect with readers interested in your genre.
What's next for you as a writer?
Short stories have been my sweet spot this year. I've been crafting a few in hopes to see them published via literary contests and anthologies. I also hope to get my novel published within the next year or so, but my ultimate goal is to continue to share my creativity and life experiences through story.
How well do you work under pressure?
I typically don't put myself in situations to be under pressure. I'm a highly proactive person who tends to get tasks done well in advance so I never have to have the feeling of panic. Yet, that puts quite a bit of self-induced pressure on me because I have my own deadlines. Since this is how I work in every aspect of life, I would say I do well under pressure. I'm a go-getter who loves to get things done!
How do you decide what tone to use with a particular piece of writing?
The tone just comes naturally for me. When I have a story brewing in my mind, it starts to write itself. For example, I recently wrote a Christmas story about a little girl whose only wish is to meet her uncle. That tone throughout the story was mostly lighthearted and excited. Another story I'm working on is darker. It's about a young woman who has experienced trauma and is trying to focus on the beauty in her life even though her past resurfaces from time to time. The story idea comes to me first, then the tone follows suit.
If you could share one thing with your fans, what would that be?
Take time to find inspiration and to explore your passions. That's when I feel the most like myself—when I make space for rest, creativity, and spontaneous plans. Feel free to reach out via my website or social media. I'm always looking to connect with fellow authors and readers!
Nat Bickel's Author Websites and Profiles
Website
Amazon Profile
Goodreads Profile
BookBub Profile
Nat Bickel's Social Media Links
Facebook Page
Twitter
Instagram
LinkedIn
This site contains affiliate links to products. We may receive a commission for purchases made through these links.