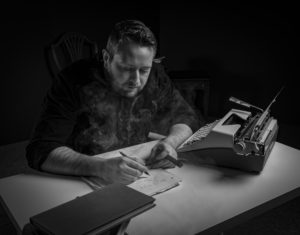 Tell us about yourself.:
My name is Michael Anthony, I'm a writer an author of the graphic memoir, "Just Another Meat-Eating Dirtbag," and the award-winning and acclimated memoirs "Civilianized, " and "Mass Casualties. " My work has appeared widely across the web in various publications and formats, I hold an MFA in creative writing from Lesley University and am a volunteer for the Veterans Writing Project.
Where did you grow up, and how did this influence your writing?:
I grew up in Massachusetts, which has a deep history of early American literature (from Emerson and Thoreau to Melville).
Do you have any unusual writing habits?
I think my biggest writing quirk is that I tend to write in bursts, meaning I might not write for two weeks but then I'll have a day where I write for 14 hours straight and skip breakfast and lunch.
What authors have influenced you?
I grew up in Massachusetts, which has a deep history of early American literature (from Emerson and Thoreau to Melville).
Do you have any advice for new authors?
Don't give up. It's a sludge out there, but keep working at it, keep writing, editing and improving, keep submitting and eventually something will happen!

What is the best advice you have ever been given?
Shorten your sentences.
What are you reading now?
Scars and Stripes by Tim Kennedy
What's your biggest weakness?
Time management when it comes to a day job, writing career, new projects, family responsibilities, exercising, etc.
What is your favorite book of all time?
All Quiet on the Western Front
When you're not writing, how do you like to spend your time?
Playing with my two kids.
Do you remember the first story you ever read, and the impact it had on you?
First story I ever remember reading was three little pigs and he big bad wolf with my mother. I've been a reader ever since.
What has inspired you and your writing style?
Just being a lifelong reader, it gives me access to a wide range of writers and styles.
What are you working on now?
My latest book out is a graphic memoir "Just Another Meat-Eating Dirtbag," but after this book I'm going to finally throw myself at a few fiction pieces I've been working on.
What is your favorite method for promoting your work?
Sharing the word as far and wide as possible through word of mouth from current readers.
What's next for you as a writer?
After three non-fiction books I'm going to work on a few fiction projects that I've had on the backburner.
How well do you work under pressure?
Very well, comes from my military training and time in Iraq.
How do you decide what tone to use with a particular piece of writing?
I don't know if I made a specific decision, it's just what came to me and felt right and sounded right in my head.
If you could share one thing with your fans, what would that be?
That I appreciate them taking the time to read my work and that I hope they enjoy it and it has a positive impact on their lives.
Michael Anthony's Author Websites and Profiles
Website
Amazon Profile
Goodreads Profile
Michael Anthony's Social Media Links
Twitter
Instagram
This site contains affiliate links to products. We may receive a commission for purchases made through these links.