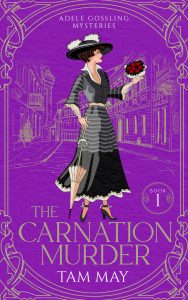 About The Carnation Murder (Adele Gossling Mysteries: Book 1):
Adele Gossling seeks peace and small pleasures in Arrojo after the death of her father. Peace is exactly what she doesn't get when she discovers her neighbor's dead body in her gazebo. The police have a firm suspect but Adele is sure he's innocent. But if he didn't do it, who did? – "The story comes alive!"
Targeted Age Group: Adult
Written by: Tam May
Buy the ebook:
Buy the Book On Amazon
Buy the Book On Barnes & Noble/Nook
Buy the Book On Smashwords
Buy the Book On Apple Books
Buy the Book On Kobo
Buy the Print Book:
Buy the Book On Amazon
Author Bio:
Tam May writes stories about powerful women set in the past. Her fiction gives readers a sense of justice for women, both the living and the dead. Tam's stories are set mostly around the Bay Area because she adores sourdough bread, Ghirardelli chocolate, and San Francisco history. Tam is the author of the Adele Gossling Mysteries which take place in the early 20th century and feature sassy suffragist and epistolary expert Adele Gossling. Tam has also written historical fiction about women breaking loose from the confinements of their era. Although Tam left her heart in San Francisco, she lives in the Midwest because it's cheaper. When she's not writing, she's devouring everything classic (books, films, art, music) and concocting yummy vegan dishes. For more information about Tam May and her books, check out her website at www.tammayauthor.com.
Follow the author on social media:
Learn more about the writer. Visit the Author's Website
Facebook Fan Page
Instagram
Pinterest
This site contains affiliate links to products. We may receive a commission for purchases made through these links.