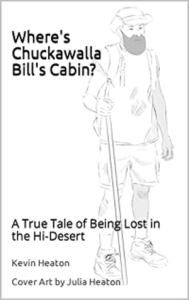 About Where's Chuckawalla Bill's Cabin?: A True Tale of Being Lost in the Hi-Desert:
Legends can captivate with an aura of mystery, urging us to embrace known truths, or boldly seek out our own through the fine art of self-discovery. This recount of a horrifying ordeal tasks you, our reader, with a perilous thirty hour Hi-Desert gauntlet that will challenge your every known human emotion; from anticipation to desperation, to the redemption one can sometimes find in the healing waters of life's simpler things.
Targeted Age Group: Teen/Young Adult
Written by: Kevin Heaton
Buy the ebook:
Buy the Book On Amazon

Buy the Print Book:
Buy the Book On Amazon
Buy the Book On Barnes & Noble/Nook
Author Bio:
Kevin Heaton lives and writes in Yucca Valley, Ca. He is an avid runner, author, and retired state park ranger. His work has appeared in over 400 print and online journals including: Guernica, Beloit Poetry Journal, Rattle, The Adroit Journal, and Raleigh Review, (search: Kevin Heaton Poems) and has been selected as Best of the net.
He is a three-time Pushcart Prize nominee, and is listed as notable among published Kansas poets.
Where's Chuckawalla Bill's Cabin? is his first Nonfiction offering.
Follow the author on social media:
LinkedIn
This site contains affiliate links to products. We may receive a commission for purchases made through these links.