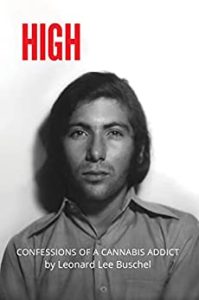 About HIGH: Confessions of a Cannabis Addict:
"The most laugh-filled, action-packed recovery memoir imaginable, but you never imagined reading one. On the road to 'IT,' sometimes we lose and take a turn off the highway to have life experiences.
This read is insightful, intelligent, heartbreaking, mind-bending, provocative, and kick-ass funny. It's all those."
~Joanna Cassidy, Golden Globe Awards-winning actress
Suppose National Lampoon published a hysterically funny and mildly offensive parody of recovery memoirs. In that case, it couldn't be as funny and mildly offensive as this autobiography by Leonard Lee Buschel, co-founder of Writers in Treatment, producers of the internationally acclaimed Reel Recovery Film Festivals, the Experience Strength and Hope Awards, and publishers of the Addiction/Recovery e-Bulletin.
HIGH is far more than a vastly entertaining recovery memoir. It is an open emotional summons, a sincere invitation to a life lived awake, alert, and a life at high energy vibrating at a higher frequency of increased creativity and joy, and if you so desire, social inclusion, fun, fellowship, and plenty of free coffee.
Targeted Age Group: 21+
Written by: Leonard Lee Buschel
Buy the ebook:
Buy the Book On Amazon
—>
This site contains affiliate links to products. We may receive a commission for purchases made through these links.