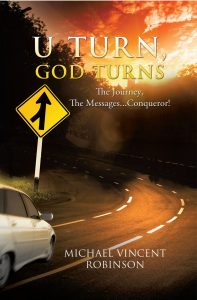 "About U Turn God Turns:
Just before dawn, the stench of mangled metal sweltered and stifled into the air from beneath the bridge. The disastrous car crash finds the bloody and traumatized Michael Vincent Robinson's life expiring in his labored breathing, but God rescues him from death. Being saved for purpose and destiny was not enough for him to exit the covert boulevard life that held him captive. With deliverance seemingly impossible, he retreats deeper into the illusive boulevard and into the wilds of his own mind. Desiring to change, the author's faith and belief in God never waivers, and God changes his desires and saves him before passing the point of no return. This compelling, life-changing memoir, executed with friendliness and bold wisdom, equips readers with all they need to embark on a new life showered by God's gifts.
Targeted Age Group: 14-90
Written by: Michael Robinson
Buy the ebook:
Buy the Book On Amazon
Buy the Book On Barnes & Noble/Nook
—>
This site contains affiliate links to products. We may receive a commission for purchases made through these links.