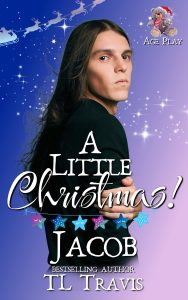 About A Little Christmas: Jacob:
For Jacob Shelton, life was anything but conventional, having been born with a silver spoon in his mouth even though it was a loveless existence. Jacob hoped there was more to life than money and was about to find out the hard way.
Richard Worthington longs for a boy of his own. One to nurture and care for, pamper and spoil. His friends in the lifestyle found their forever partners, so why's it so difficult for him to find the same? Sugar baby after sugar baby leaves Richard wondering if it's worth it.
Their paths cross in a chance meeting, though it's a life-or-death decision that ultimately brings them together.
This is an MM daddy/little Christmas twist on The Little Princess Classic tale. Each age-play romance book in this multi-author series can be read as a standalone.
Targeted Age Group: 18
Written by: TL Travis
Buy the ebook:
Buy the Book On Amazon
This site contains affiliate links to products. We may receive a commission for purchases made through these links.