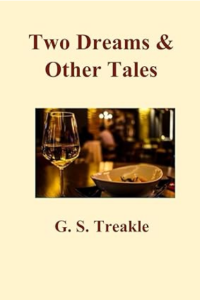 About Two Dreams & Other Tales:
Five modern family tales of personal loss, redemption, dreams, betrayal, forgiveness, reconciliation, self-discovery, and faith.
A young Texan returns home after fourteen years in exile, seeking redemption and clues to the fate of his missing family … An Atlanta man nervously undergoes a change of career, looking to fulfill his father's greatest dream … A sixteen-year-old orphan sets out on an ill-fated hunting expedition with the grandfather who has shunned him his whole life … Two brothers adjust to the death of their Marine father in Beirut while coming of age at an Ohio boy's summer camp … A boy grows up anxiously pondering the fate of his father, a World War II airman missing in action.
Targeted Age Group: 16+
Written by: Greg Treakle
Buy the ebook:
Buy the Book On Amazon
—>
This site contains affiliate links to products. We may receive a commission for purchases made through these links.