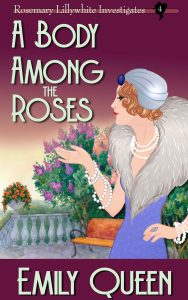 About A Body Among the Roses (Mrs. Lillywhite Investigates #4):
Binge books 1-6 for just .99 each, then pick up the NEW RELEASE box set of books 7-9!
Some people are simply asking to be murdered.
Rosemary Lillywhite has had a lot on her tea tray: murder, intrigue, and three men vying for her affections.
When her mother, Evelyn, calls and pleads with her to help put on a country garden club fête, Rosemary begrudgingly agrees. After all, she can't leave poor Vera to her own devices—not when Evelyn has so staunchly objected to the match between Vera and Rosemary's brother, Frederick.
As it turns out, Evelyn doesn't approve of Rosemary's romantic interests either—and she's only made the event more awkward by inviting her preferred choice of suitor to the fête!
Furthermore, the garden club is filled with a group of Rosemary and Vera's school chums—an assortment of sour ladies they both would have preferred never to see again.
If she'd known one of them was going to meet her end in Evelyn's back garden, Rosemary might have declined her mother's invitation and let Vera fend for herself!
Now that murder has rocked the sleepy country village of Pardington and ruined the garden club event, Rosemary must bail her mother out of a jam—all while trying to juggle three men and mitigate Evelyn's imminent nervous breakdown!
Book four in The Mrs. Lillywhite Investigates series.
Are you ready to escape to the roaring twenties? For fans of Beth Byers, Leighann Dobbs, Lee Strauss, and cozy historical murder mysteries.
A light, cozy mystery with no swearing, graphic scenes, or cliffhangers.
Targeted Age Group: Trade
Written by: Emily Queen
Buy the ebook:
Buy the Book On Amazon
This site contains affiliate links to products. We may receive a commission for purchases made through these links.