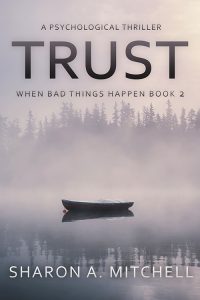 About TRUST: A Psychological Thriller:
Elizabeth thought that after all they'd been through, the bad parts were over.
Guess not.
After saving herself and her little boy from abductors, Elizabeth yearns to put the terror behind them, to cocoon with her son, safe and secure at home.
Court hearings confirm that they suffered the worst betrayal possible. She never dreamed that she'd have to battle the law to protect her medically fragile little boy when his life and sanity are on the line.
When her son is targeted and taken, Elizabeth will do anything to save him.
Ordinary people, thrust into extraordinary circumstances.
Read TRUST, a stand-alone novel in the series When Bad Things Happen.
Targeted Age Group: adults
Written by: Sharon A. Mitchell
Buy the ebook:
Buy the Book On Amazon
—>
This site contains affiliate links to products. We may receive a commission for purchases made through these links.