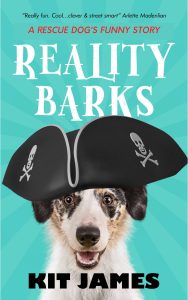 About Reality Barks: A Rescue Dog's Funny Story:
A rescue dog faces the reality of his unusual new life.
When two glossy Sydney metro couples rescue an ordinary Aussie mutt from the Dog Pound, he wonders why… especially when they change his name to Elliott! But he soon realizes that Jamie, the alpha-male of one of the couples, has plans for him… big plans! It's a humorous Australian rescue dog's tell-all tale about how he becomes a celebrity and wins their love.
"A dog's version of life, death and stardom", Amazon 5-star Review.
Targeted Age Group: 18+
Written by: Kit James
Buy the ebook:
Buy the Book On Amazon
This site contains affiliate links to products. We may receive a commission for purchases made through these links.