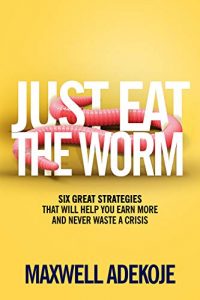 About JUST EAT THE WORM:
In times of obscurity, due to the global epidemic, inspiration becomes the mind's well-being. Hope is required to keep moving towards progress. Who we need to become must occur before we become to outlast any crisis. Every crisis will pass because it's temporary and seasonal.
Just Eat The Worm is not just a book of hope and inspiration but wisdom and an antidote to excel in any adversity. A gem can't be refined without friction, nor a man perfected without trouble.
This book covers six proven strategies to embrace in tough times. Just Eat The Worm is a mental weapon for overcoming and outlasting crisis.
Each story is unique, with lessons from real life experiences. It's a must-have book for anyone who wants to achieve massive success.
Targeted Age Group: 18-75
Written by: Maxwell Adekoje
Buy the ebook:
Buy the Book On Amazon
—>
This site contains affiliate links to products. We may receive a commission for purchases made through these links.