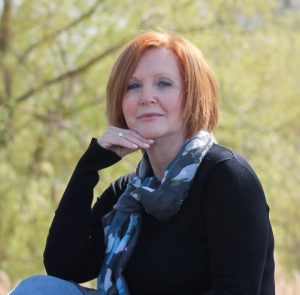 Tell us about yourself and your books.:
Hi everyone! It can be somewhat difficult to talk about one's self in a situation such as this for I really am a private person. My heroines may be based, or partly-based on me, and they have been known to be colorful and endearing, but truthful, as am I.
I always loved to write, but literature wasn't where my life took me. I am an Interior Decorator by trade, and owned and operated a Residential Home Care service until I retired in 2015. In 2001, I became a serious writer and a published author in 2001 with my very first publication of contemporary and traditional poetry titled, Feelings: A Rhythmic Journey in Thought. I followed this in 2010 with my first collection of children's short stories titled, Young Minds. Both of these titles were followed by a second poetry collection titled, Impressions, and a children's collection titled, Through the Eyes of Innocence.
My first venture into main stream romantic fiction was tried with the 2011 release of the two-part Passion in Paris – Connections to the Past and Directions of the Heart, but they were not what I had hoped to achieve, so I revised the entire story and in 2013 released the Paris-based story in a grand scale novel titled, Passions in Paris: Revelations of a Lost Diary which garnered a 4-star rating by Amazon.
In 2012, I released the first installment of my ongoing Derwood Comedy Series titled, The Misadventures of Derwood Tugbottom.
In 2015 I released Willow's Walk, a romantic drama that brought me a 5-star-rating by Readers Favorite Books while still in pre-release.
In 2017 I released my second comedy installment titled, Derwood Returns, and this was followed in January 2019 with my multi award-winning, 5-star romantic fiction drama, The Perils of Autumn. This novel has been awarded Finalist in Romance by both The International Book Awards and The American Fest Best Book Awards.
Also in 2019, I released my third Derwood comedy installment titled, Derwood Goes Caribbean. I am currently writing the follow-up to The Perils of Autumn, titled Return to Autumn, expected for release in late 2020. I am also planning to release my fourth comedy installment, Derwood Comes Home.
As you can see, I love to write.
Do you have any unusual writing habits?
It's hard to say what one considers unusual as all writers have certain habits that they apply while creating a literary piece. I am terrible for scribbling ideas and character conversation on scraps of paper. My desk can be a mess at times, but I have these scraps to refer to when working. I always make sure to write an idea down; this way it's not lost, or I have have to waste time trying to remember what it was. I got into that habit long ago, and for me it works.
What authors have influenced you?
I would say many authors have. I enjoy expressive writing, where the words pull you into the story, the plot, and sweep you away. I admire Margret Mitchell, and the writings of Canadian authoress Lucy Maude Montgomery, and American author Laura Ingalls Wilder. The last two are primarily known as authors of children's work, however, their expressive and informative stories entertain any age. I also try and support local authors in my area.
Do you have any advice for new authors?
The most important advice I could give, is to write what you know. In other words, write what you know about. The more you understand, or have experienced first hand, the better your written perception of it will be and the more professional it will appear to your readers. Only you know how you feel, and how you perceive things, so stay true to your heart and if you're not sure about your topic, or subject, research it completely.
[Read more…] about Featured Author Interview: Rusty Blackwood
This site contains affiliate links to products. We may receive a commission for purchases made through these links.