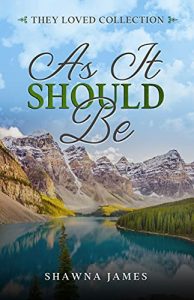 About As It Should Be (They Loved Collection Book 2):
Andrew and his wife, Stephanie, thought they had bought their safety and freedom. Just as they had settled into an idyllic life in Norway, the table turns again into a living nightmare. They are forced to move back to Canada and run through yet another convoluted maze.
Upon arriving back to the country in which they met, a man in a blue Jetta begins following Stephanie and their daughters. Can Andrew protect his family from the looming threats? And who is following Stephanie? Even in the midst of difficult circumstances, Andrew and Stephanie stay positive and strong for their daughters and hoping that someday the curse will be lifted.
Targeted Age Group: Adult
Written by: Shawna James
Buy the ebook:
Buy the Book On Amazon
—>
This site contains affiliate links to products. We may receive a commission for purchases made through these links.