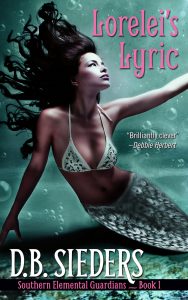 "About Lorelei's Lyric:
If Lorelei sings, someone will die.
Lorelei craves song as much as she needs the water. Both sustain her and fuel her mermaid powers.
But her mother has cursed her voice, and if Lorelei sings long enough, any mortal man within earshot will die.
Rockstar Vance Idol has been courting death for a while. He believes he killed his girlfriend. He can't shake his alcoholism, and his attempts are ruining the music career he and his band have worked years to build.
Lorelei sang. Vance nearly died. Now, Lorelei has to make amends to the human with a death wish, without falling in love with him and losing her own immortality.
Targeted Age Group: 18 years and older
Written by: D.B. Sieders
Buy the ebook:
Buy the Book On Amazon
Buy the Book On Barnes & Noble/Nook
Buy the Book On Apple Books
Buy the Book On Kobo
This site contains affiliate links to products. We may receive a commission for purchases made through these links.