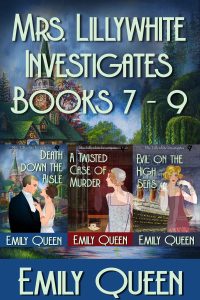 About Mrs. Lillywhite Investigates Books 7-9: A Cozy Historical Mystery Series:
This is a collection of books seven through nine in the Mrs. Lillywhite Investigates series including the following titles: Death Down the Aisle, Evil on the High Seas, and An American Alibi.
Targeted Age Group: Trade
Written by: Emily Queen
Buy the ebook:
Buy the Book On Amazon
This site contains affiliate links to products. We may receive a commission for purchases made through these links.