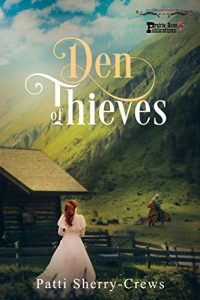 "About Den of Thieves:
When his identical twin brother is arrested, the Pinkerton Detective Agency enlists Wynne Palmatier to go undercover and impersonate his outlaw brother, Ennis. His mission is to infiltrate his brother's gang. Ennis tells Wynne everything he needs to know. Except for one thing: there are two women with the outlaws, and one of them is his wife.
Lucy House is still paying for the day she strayed away from decency. Now the handsome outlaw she ran away with has lost his appeal and she longs to get away from this life. As the danger mounts, can Wynne and Lucy escape this den of thieves?
Targeted Age Group: adult
Written by: Patti Sherry-Crews
Buy the ebook:
Buy the Book On Amazon
—>