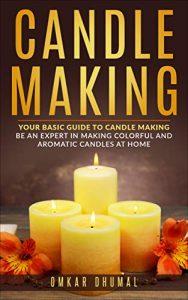 "About Candle Making: Beginners Guide: Be an Expert in Making Colorful and Aromatic Candles At Home:
Do you want to make your own Candles? But don't have any idea where to start? Discover your one-stop resource for everything you'll ever need to know about Candle Making.
Would you like to create a special and meaningful gift for someone? Are you looking for fun, easy and quick Candle Making projects to complete? Then 'Candle Making: Be an Expert in Making Colorful and Aromatic Candles At Home' is the only solution for you to get all these.
Candle Making is a book for those who want to make candles at home safely, successfully, with optimum results and a wealth of knowledge to ensure their projects are both enjoyable and risk-free.
Learn techniques used by the experts and explore the science behind candle making. Suggestions about fragrance, color, and unique materials abound throughout Candle Making. An eye-opening question-and-answer session and projects you can start today are included as well.
Here Is A Preview Of What You'll Learn…
The Basics of Candle Making
Do's and Don'ts and how to prepare your workstation.
A thorough discussion of the various processes involved in candle making.
FAQ and Troubleshooting Guide
Candle Making Projects You Can Do Yourself
And Much, Much More!
Candle making is fun, economical, and easier than ever with this guide. It helps you through all the different aspects of making a candle. Download your copy today!
Targeted Age Group: 11-60
Written by: Omkar Dhumal
Buy the ebook:
Buy the Book On Amazon
—>
This site contains affiliate links to products. We may receive a commission for purchases made through these links.