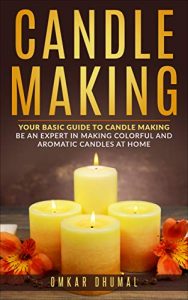 "About Candle Making: Your Basic Guide To Candle Making: Be an Expert in Making Colorful and Aromatic Candles At Home:
Do You Want To Start A Candle Making Business?
This book provides insights into the key considerations and techniques used by experts that can help you to make your candles beautiful and "oops" free. The author purely focuses on sharing the secrets of a candle making art and wants to ensure that you won't face these problems when you start your journey. You will discover ways to ensure your candles to be a quality product.
Learn techniques used by the experts and explore the science behind candle making. Suggestions about fragrance, color, and unique materials abound throughout Candle Making. An eye-opening question-and-answer session and projects you can start today are included as well.
Just Look What Other People Are Saying:
Gina R Mitchell, Central Illinois, USA
"This book has everything you need to begin your candle making journey. Topics such as wax types, differing wicks, scents, & shapes are presented in great detail. There are great tips & tricks throughout the book. All in all, a fascinating how-to manual on candle making. I learned a lot & look forward to trying my hand at creating my own candles."
Don't just wish to make good candles – Take advantage of our limited time offer and Buy Now For FREE with 1-Click (21st Sept – 25th Sept), and start your candle making journey Today!
Targeted Age Group: 20-50
Written by: Omkar Dhumal
Buy the ebook:
Buy the Book On Amazon
—>
This site contains affiliate links to products. We may receive a commission for purchases made through these links.