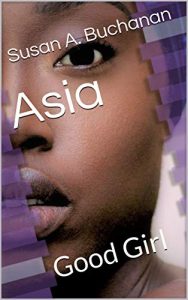 "About Asia: Good Girl:
TITLE WILL BE AVAILABLE FOR KINDLE COUNTDOWN DISCOUNT 2-4-2019 THROUGH 2-7-2019
Following an exciting day at the office filled with emergency Board Meetings, top-level firings and an acquaintance nearly taking advantage of her, VP Asia Daniels, wakes up in a bedroom that isn't her own. What in the world is going on? She's told that she is here for her safety and protection. Then, she's issued a challenge. Let go of her good girl persona for one day and come over to the dark side. Allow the man in the hooded silk mask to introduce her to pleasures that she's never known. How can a stranger elicit such desire and passion in her? More importantly, how can she allow him to bring her to such passionate heights? The stranger behind the cover could be someone much closer to her than she thinks.
Targeted Age Group: 18 and Older
Written by: Susan A. Buchanan
Buy the ebook:
Buy the Book On Amazon
—>
This site contains affiliate links to products. We may receive a commission for purchases made through these links.