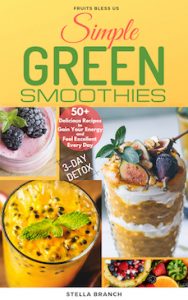 "About Simple Green Smoothies to Lose Weight: 50+ Delicious Recipes to Gain Energy and Feel Excellent Every Day:
Congratulations, if you are reading this means you have taken the first step to change your lifestyle.Success on Keto Diet: The Essential Healthy Guide is achieved by following its high-fat, low-carb principles―which means you need Keto recipes that are easy, fast and enjoyable.In Keto Diet: The Essential Healthy Guide you'll find:
easy recipes that use best and healthy ingredients ―are fully fat keto compliant, and include nutritional information (with macros)
delicious and exclusive ― authentic keto and vegetarian recipes from around the world
best selected everyday Keto Diet recipes for breakfast, lunch, dinner, dessert and more
30 minutes or less ―is all that is required to make most of these keto diet recipes from beginning to end
your 14-day challenge ― specially selected recipes to lose weight, boost brain, balance hormones and reverse disease
Do more on Keto Diet with recipes, guidance, motivations, nutritional information, tips and tricks from the Keto Diet: The Essential Healthy Guide.
Use these recipes, and start your Keto today!
Targeted Age Group: 25
Written by: stella branch
Buy the ebook:
Buy the Book On Amazon
This site contains affiliate links to products. We may receive a commission for purchases made through these links.