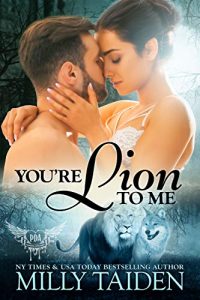 "About You're Lion to Me:
From planet Aurora, lioness shifter, Dalissa Furr, wants to explore new places before she goes insane from boredom. So a trip to Earth is a must. Finding her mate in the process would be great too, if Gerri Wilder can make it happen. But according to her parents, her smaller than normal size and delicate features make her undesirable to a shifter.
Azai Whittip, alpha of the White Tip wolf pack, will only accept his true mate for a life-long partner, to the dismay of the females in the pack. When Gerri asks him to take her friend sightseeing, he doesn't expect this friend to be gorgeous and smell so damn good. Oh, and bonus, she's his mate.
As far as Azai is concerned, life's perfect now that he found Dalissa. But someone in his pack or the neighboring lion pride think wolves and lions don't mix. When both alphas and the male wolves come up missing, it's up to Dalissa to figure out what's going on and how to stop the one person set on destroying both packs and dominating the human world. Talk about an adventure!
Targeted Age Group: 18+
Written by: Milly Taiden
Buy the ebook:
Buy the Book On Amazon
Author Bio:
Hi! I'm Milly Taiden. I love to write sexy stories featuring fun, sassy heroines with curves and growly alpha males with fur. My books are a great way to satisfy your craving for paranormal romance with action, humor, suspense and happily ever afters.
I live in Florida with my hubby, our kids, and our fur children Speedy, Stormy, and Teddy. Yes, I am aware I'm bossy, and I am addicted to chocolate and cake.
I love to meet new readers, so come sign up for my newsletter and check out my Facebook page. We always have lots of fun stuff going on there.
Follow the author on social media:
Learn more about the writer. Visit the Author's Website
Facebook Fan Page
Twitter
This site contains affiliate links to products. We may receive a commission for purchases made through these links.