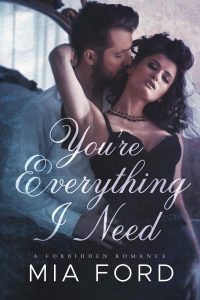 About You're Everything I Need:
Losing my wife wrecked me – only my little girl pulled me through.
She found Lexi for me too.
Ran up to her in the park calling her "mommy".
My heart nearly broke.
Then it started pounding.
Flaming red hair and blue eyes I could drown in.
The spitting image of the woman I lost.
I can't risk losing Lexi too.
Perks of being a millionaire – I gave her a job.
Disadvantages – she's making my mind go to places it shouldn't.
Places that make my breath catch and my body hot.
She wants me too – I see it in those perfect eyes.
But we're both hiding secrets, and one of them is big.
So big it means this romance is forbidden.
We have to let go, but it's tearing me apart.
Can facing our pasts, and the dangers they bring, give us a second chance?
Buy the ebook:
Buy the Book On Amazon

Author Bio:
I am a contemporary romance writer who loves strong, gorgeous, Greek God-like alpha men who love protecting their sassy and sexy women.
I am very honored to have many of my books hitting the TOP 100 on Amazon's paid store!!!
This site contains affiliate links to products. We may receive a commission for purchases made through these links.