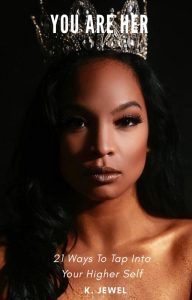 "About You are her: 21 ways to tap into your higher self:
Every girl has had a dream of what woman she would be when she grew up. I know you have always wondered how you can her. In recent times this person has been coined as our "Higher Self". This book will show you the ways your Higher Self goes through life and how you can finally let her out. In this book, each chapter explains the qualities of your Higher Self and how to develop them. Learn how to move on from failure,control your life, get rid of toxic people and deal with haters. Learn how to move on from the past and manifest a new life. It's time to get what your life deserves, and move on from the things that don't deserve you. Don't spend your days trying to correct the past. Instead let go, and let the universe create something better for your future. Step into the version of yourself that already has everything that you want.
Targeted Age Group: 21-40
Written by: K Jewel
Buy the ebook:
Buy the Book On Amazon

Author Bio:
I am a graduate of NC A&T. Writing has always been a dream of mines and I never believed I could do it. But since gaining the confidence I now have a book out and a story to share. I love pets, I have a three year old Yorkie. Some may call me a introvert.
This site contains affiliate links to products. We may receive a commission for purchases made through these links.