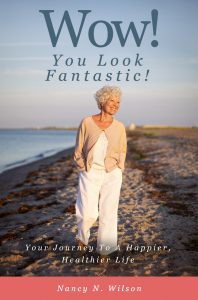 "About WOW! You Look Fantastic!:
Are you on-edge and out of shape? Discover a simple approach to get your mind and body back into their prime.
Do you feel like your eating habits are beyond your control? Do you struggle with weight gain and energy loss as you age? Are you tired of chasing after the newest diet fads and workout gurus? Author Nancy N. Wilson has spent years researching and writing about proven healthy practices. After successfully applying her findings to her own lifestyle, she's here to share her most effective techniques for lasting results.
WOW! You Look Fantastic! Your Journey to a Happier, Healthier Life is a practical handbook packed with step-by-step methods to elevate your fitness, mood, and self-image. Specially tailored for women over 40, Wilson's holistic approach to a better body will help you feel amazing from the inside out. Guided by personal anecdotes, simple tools, and comprehensive checklists, you'll shed the burden of extra pounds and stress to reveal a more fit, happier you.
In WOW! You Look Fantastic!, you'll discover:
– A simple approach to gradually improve your health each and every day
– Step-by-step methods to turn self-destructive habits into positive practices
– Checklists, tools, and recommendations to help you focus on incremental improvements
– Powerful exercises to help you gauge and advance your fitness level
– Inspiration, motivation, and additional resources to keep you on track, and much, much more!
WOW! You Look Fantastic! is an inspiring reference book for revolutionizing your wellbeing. If you like proven advice, practical tips, and encouragement from someone who's traveled the same path, then you'll love Nancy N Wilson's life-changing resource.
Buy WOW! You Look Fantastic! to take charge of your fit new future today!
Targeted Age Group: Women 40+
Written by: Nancy N Wilson
Buy the ebook:
Buy the Book On Amazon
Buy the Print Book:
Buy the Book On Amazon
Author Bio:
Nancy N Wilson is freelance writer, editor and a bestselling author of more than 30 books. She was born and reared in a small farming community in Southern Arizona and earned her B.S. Degree in Education at Utah State University.
After graduation she moved to San Francisco to become a model, a career that ended when she married, moved to Spain for two years, and subsequently had four children – all of whom are now grown with families of their own.
After her return to the U.S., her first entrepreneurial venture began with the purchase of a small wallpaper shop in Los Gatos, CA, which she quickly expanded into a thriving Gift and Design Shop and eventually built a world-class commercial interior design business.
Although her creative talents were well-spent as a designer, her real passion was writing and her dream was to become a published author; but, it took a while to realize that dream.
When her marriage ended, she and her children moved to Arizona where she earned an MBA at the Thunderbird School of International Management. Shortly, thereafter, she joined a consulting firm in New York City as a Senior Consultant. Her responsibilities included development, delivery and training of trainers for Corporate America in the area of Leadership and Management Development.
She spent a number of years serving clients across the US, as well as the UK, Ireland, Belgium, and Switzerland. It was an exciting time. She not only travelled extensively, she was also able to use her writing ability to create materials for the workshops she helped develop and deliver. It was not the publishing arena that she had dreamed of, but at least she was using her talent.
Finally, in 2012, life events brought her to a point that she decided the time had finally come for her to write and become a published author. She spent the year writing her first book, which was published in December 2012.
Since that time she has written a total of 25 books and become an Amazon Best-Seller numerous times. She is currently writing her next book which will be out in August 2016.
Her primary passion is helping women live happier, healthier lives.
Follow the author on social media:
Learn more about the writer. Visit the Author's Website
Facebook Fan Page
Twitter
This site contains affiliate links to products. We may receive a commission for purchases made through these links.