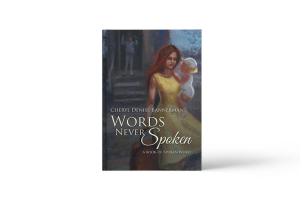 About Words Never Spoken:
Words Never Spoken, a book of Spoken Word, is a never before seen, unique, chapter- and story-driven, fictional book of spoken word. It is a book that touches on the deepest personal issues today, such as depression, suicide, molestation and domestic abuse. It is book of self-improvement and self-help with lines for journal entries to hold the readers deepest thoughts.
Words Never Spoken A story of love between a man and woman, a mother and a child, faith, dating, abuse and betrayal. The story of an ordinary woman placed in extraordinary circumstances. Is she a woman scorned or a woman silenced for too long? Cheers from the reader will motivate the main character to push harder, fight back, run away, and live life to the fullest, as each chapter brings them closer to the truth. In the end, the reader remains in disbelief as the curtains draw to a close.
As each chapter ends, the reader will also be challenged to relate the stories to their own experiences, taking pen to paper, as the book encourages them to share their thoughts on paper and through the web sites intimate blog discussions.
Words Never Spoken has the power to heal. Wont you let your healing begin?
Buy the ebook:
Buy the Book On Amazon

Author Bio:
Even at the age of seven, up and coming Author Cheryl Denise Bannerman, would sit for hours on end reading about faraway lands, intriguing characters and intoxicating storylines.
And by a pre-teen, she was writing poetry for publication and short stories for school that moved the reader to laughter, tears, and sometimes anger. She was an old creative soul from a young age, experiencing way too much 'life' than she would have liked.
Now this little girl is all grown up with a child of her own. A child who also loves to write, and even has a unique and masterful talent for drawing as well.
When Author Cheryl Powell (pen name, Cheryl D. Bannerman) is not writing for her next book, she is running her 21-year old virtual B2B Training and Development company based out of her Orlando, Florida, home. Since 1996, she has been known as an Instructional Design and e-Learning Specialist — with clients all over the US and overseas — creating classroom training materials, e-Learning modules, job aides and more for corporate employees and their clients.
This author also holds a Bachelor of Science in Business Management and a Master of Science degree in IT Project Management and Leadership. She manages multiple projects over various time zones as an expert Training and Development Service Provider. Her wide range of training experience, from classroom-based as a Computer Instructor to online universities as a Professor, all the way to the corporate arena — in conjunction with her background in Technology — has greatly contributed to her success in the field of Training and Development.
In her spare time, Cheryl Powell loves to read murder mysteries, attend museums, watch movies, try new restaurants and cuisines, shop with her daughter, and take in the sun on the beach. And, although this author's works are fiction, she has incorporated many of her personal life's experiences into their stories.
Follow the author on social media:
Learn more about the writer. Visit the Author's Website
Facebook Fan Page
Twitter
Instagram
This site contains affiliate links to products. We may receive a commission for purchases made through these links.