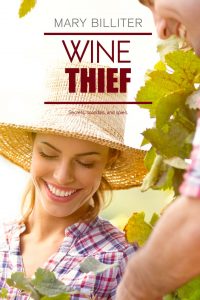 About Wine Thief:
What happens when a corporate spy clashes with a woman he can't help but fall for? In Mary Billiter's witty novel of deception and heat, a red-hot suit and a beautiful academic are linked by a vineyard and the mystery surrounding its origins.
Chloe Dorsey places her belongings in storage, puts Southern California in her rearview mirror, and heads to her sister's home in Northern California for a fresh start. As one of the newly hired wine educators at the Napa Valley Point Resort and Winery, Chloe's knowledge of wine is as limited as her income.
Anthony "Tony" Mahoney has one objective—to locate the Mother Vine, the source of the rare and award-winning wine that can only be found at the Napa Valley Point Resort and Winery. His talent for stealing secrets is tested when he makes an unlikely alliance with the one woman who could destroy all his plans.
Can Chloe stop the wine thief, or will she have her heart crushed in the process?
Buy the ebook:
Buy the Book On Amazon
Buy the Book On Barnes & Noble/Nook
Buy the Book On iBooks/iTunes
Buy the Book On Kobo

Author Bio:
Author Mary Billiter followed in the footsteps of her father, an award-winning journalist, by earning a Bachelor of Arts degree in Journalism from California State University at Northridge. She earned her Master of Arts degree in Adult and Post-Secondary Education at the University of Wyoming.
Mary teaches fiction writing courses through the Life Enrichment program at Laramie County Community College. When school's out, Mary can be found on a bike discovering new trails with her husband and children.
Mary resides in the Cowboy State with her unabashedly bald husband, Ron Gullberg, her four amazing children, two fantastic step-kids, and their runaway dog. She does her best writing (in her head) on her daily runs in wild, romantic, beautiful Wyoming.
Follow the author on social media:
Learn more about the writer. Visit the Author's Website
Facebook Fan Page
Twitter
This site contains affiliate links to products. We may receive a commission for purchases made through these links.