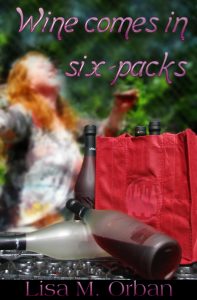 About Wine Comes in Six-Packs by Lisa Orban:
Author Lisa Orban is ready once more to share her triumphs, tragedies and hysterical misadventures in her eagerly anticipated second book, Wine Comes in Six-Packs. Although her life is an emotional roller coaster of ups, downs, twists and turns, she manages to keep the reigns steady on chaos and retains balance between tragedy and hilarity throughout her tales. Through her reminiscences of circumstance and consequence, she shares with us her inner strength in her continuing quest to find love, and happiness, on her own terms.
Buy the ebook:
Buy the Book On Amazon
Buy the Book On Barnes & Noble/Nook

Author Bio:
Lisa Orban was born in Galesburg, IL a long time ago on a hot summer day. Due to various shenanigans by the adults in her life, her time in Galesburg was short and the family moved to Quincy, IL where they settled down for a good long stay.
Things were rolling along for a while inside the confines of Quincy, and Lisa rolled with them. There were several divorces, marriages, different schools, friends lost & gained, and many, many moves throughout all this activity. Until, quite unexpectedly, Lisa found herself in foster care at 16, much to her surprise.
Upon turning 18, Lisa ran away as fast as she could to Phoenix, AZ where she lived for 3 years. Got married, had a two sons, made many mistakes, and then eventually, ran for her life back to Quincy, where she still lives to this day.
Lisa went to college, earned an Associates in Psychology, raised her kids, got married, and divorced, several times, bought a house and eventually settled down to live the life she wanted, as the ringleader in a madhouse of anarchy. She now writes books, takes in human strays in need of help, travels, and pretty much does whatever she wants, and is quite happy about it.
She became an author in 2015 with her first book, It'll Feel Better when it Quits Hurting, and hasn't stopped since. If you'd like to learn more about Lisa's misadventures in living, visit her website, The Talking Book with Lisa Orban at http://pandra411.wixsite.com/lisaorban
Follow the author on social media:
Learn more about the writer. Visit the Author's Website
Facebook Fan Page
Twitter