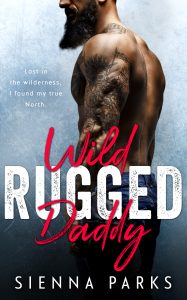 About Wild Rugged Daddy:
Bear Paw Mountain is rife with urban legends.
When football superstar, Travis Thorburn, lost his wife in a car accident, he became a single daddy. Overcome with grief and overwhelmed by parenthood, he dropped out of the spotlight with his newborn son and hasn't been heard from since. Journalists have been trying to find them for four years without success.
As Juliet Abrams sets out on an expedition to Bear Paw Mountain for her next article, she's intrigued by the town of Cricket. Rumors circulate about the local recluse who flits in and out of their close-knit community with his little boy. Warnings to steer clear of the enigmatic stranger and the mysterious creatures that roam the mountains are rendered obsolete when her strong will and inexperience conspire to bring them together.
Travis can smell an intruder a mile away and track them down with practiced ease. The moment Juliet sets foot on his territory, he can feel her… and the moment their eyes meet, it stirs emotions that Travis thought died the day he lost everything compassion, concern… and desire.
When Juliet realizes who her wild lover really is, will she expose him to further her journalistic career or will she be ensnared by this wild, rugged, mountain man?
Buy the ebook:
Buy the Book On Amazon

Author Bio:
I'm happiest when wandering through the unchartered territory of my imagination. You'll find me curled up with my laptop, browsing the books at the local library, or enjoying the smell of a new book, taking great delight in cracking the spine and writing in the margins!
Sienna is a native Scot, but lives in Texas with her husband, two kids, and a whizzy little fur baby with the most ridiculous ears. She first fell in love with British Literature while majoring in Linguistics, 17th Century Poetry, and Shakespeare at University. She is an avid reader and lifelong notebook hoarder. In 2014 she finally put her extensive collection to good use and started writing her first novel. Sienna recently became a writer at Prism Heart Press, and is currently writing some exciting new projects.
Follow the author on social media:
Facebook Fan Page
Instagram
This site contains affiliate links to products. We may receive a commission for purchases made through these links.