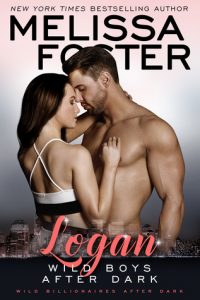 "About Wild Boys After Dark: Logan:
Everything's naughtier after dark…
Navy SEAL turned private Investigator Logan Wild is relentless in his pursuit to discover the truth for his clients. He works hard, plays even harder, and always walks away unscathed and untethered. Until he meets mysterious and sexy-as-hell Stormy Knight, who leaves him craving more than a one-night stand.
Stella "Stormy" Knight is an expert at hiding–her feelings, her past, and her identity. Sometimes all that hiding takes its toll, and she needs to come out from under that heavy suit of armor and cut loose–but it never takes her long to put it right back on and disappear without a trace.
Passion ignites, secrets are shared, and their deep connection is impossible to ignore. But in order to have a future, Logan must uncover Stormy's dark past–and when he does, he'll hold her fate in his hands.
Targeted Age Group: Adult
Written by: Melissa Foster
Illustrated by:
Buy the ebook:
Buy the Book On Amazon
Buy the Book On Barnes & Noble/Nook
Buy the Book On Smashwords
Buy the Book On Apple Books
Buy the Book On Kobo
Author Bio:
Melissa Foster is a New York Times & USA Today bestselling and award-winning author. She writes steamy contemporary romance and contemporary women's fiction – perfect beach reads – with emotionally compelling characters that stay with you long after you turn the last page.
Follow the author on social media:
Learn more about the writer. Visit the Author's Website
Facebook Fan Page
Twitter
This site contains affiliate links to products. We may receive a commission for purchases made through these links.