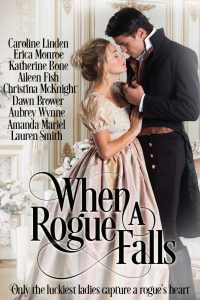 "About When a Rogue Falls:
Only the luckiest ladies capture a rogue's heart. Indulge in this nine book collection of rogue's who fall helplessly in love with the ladies who bring them upto scratch.
Targeted Age Group: 18+
Written by: Amanda Mariel
Buy the ebook:
Buy the Book On Amazon
Buy the Book On Barnes & Noble/Nook
Buy the Book On Smashwords
Buy the Book On Apple Books
Buy the Book On Kobo
Author Bio:
USA Today Bestselling author Amanda Mariel dreams of days gone by when life moved at a slower pace. She enjoys taking pen to paper and exploring historical time periods through her imagination and the written word. When she is not writing she can be found reading, crocheting, traveling, practicing her photography skills, or spending time with her family.
Follow the author on social media:
Learn more about the writer. Visit the Author's Website
Facebook Fan Page
Twitter
This site contains affiliate links to products. We may receive a commission for purchases made through these links.