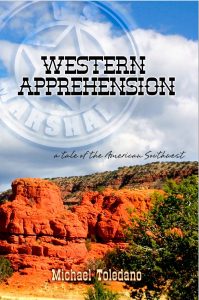 About Western Apprehension:
Decision time is fast approaching. Marshall Ben Corrigan is nearing retirement from a long, rewarding career as a roving law officer in the Northeast New Mexico territory circa 1886. Moving into the unknown and uncertain realm of retirement has little appeal to him. His romantic interest, widow Rachel Langford, wants him to turn in his badge and settle down with her. However, even though he finds it tempting, he still has misgivings which are not all related to leaving his life-fulfilling profession.
Compounding his uncertainty is his own survival. A routine assignment to transport a man who murdered a deputy sheriff in the town of Iron Horse Junction to the territorial capital of Santa Fe goes awry. The trials and tribulations he endures during this incident will finally cause him to make his fateful decision. Whatever he chooses—everything hangs on his ability to survive his present ordeal.
Buy the ebook:
Buy the Book On Amazon

Author Bio:
I've always enjoyed historical fiction. Previously, I published, Truncate, a suspense novel set in late Victorian London. My present novel also occurs in the same period, but its location is thousands of miles away in the rugged American Southwest¬. A world apart from the metropolitan atmosphere of Victorian London. However, for me, it holds the same strong allure. The romantic and sturdy icon of the people in the American West coping with the later stages of the American frontier in the 19th century is instilled in American culture. I've always been a fan of this American epoch. It's from this inspiration that I spun a tale that involves the romance, conflicts, and human touch of this genre.
Follow the author on social media:
Learn more about the writer. Visit the Author's Website
Twitter
This site contains affiliate links to products. We may receive a commission for purchases made through these links.